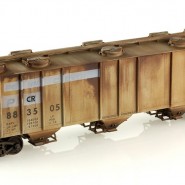 Surface Rust Technique
Some time ago, I was looking for technique to simulate surface rust.  In the past, I used the foam brush technique of "dabbing" rust colored paint on.  However, what I wanted was something quicker and that would result in a more random appearance (the foam brush technique results in rust *only* where you put it, so sometimes rust patterns look too "scripted").
So here is what I came up with.  I apply a fade coat to the car using almost straight up Polly Scale paint to intentionally create a slight texture.  Let this dry overnight.  Next, mix some Liquidtex Burnt Umber with RO or distilled water to create a mixture that will spray with an
airbrush.  You can add Polly Scale rust to this to brighten it up.  Spray this on and let it dry enough so it doesn't look wet.  Take a brush wet with water and remove it by scrubbing it off.  The dryer the paint, the tougher it is to remove and the result is a light rust coat that fades at the edges.  Paint that is more wet comes off in pieces creating hard edges.  You can vary the brushes to get different effects.
The textured fade coat protects from any rust paint too easily coming off.
The technique takes a little bit of practice, but any mistakes can be fixed by applying more rust mixture with the airbrush.